Last Tuesday I finally fulfilled my ambition of seeing Radiohead live ... and what a night! I remember being very envious of my sister seeing them at the CIA a few years ago, at the time of the 'Hail to the Thief' tour. In an email she had described how, early in the set, Thom Yorke had started chanting 'Car-diff, Car-diff' and encouraging the audience to follow him, and that they had then looped the chant and built it up into a whole hypnotic backing for a song, and thinking how fascinating that was.
Anyway, after a jolly afternoon at the Cy Twombly exhibition in the Tate Modern, and a very late lunch at the lovely Mudlark pub in the shadow of Southwark Cathedral (excellent real ale and astounding food – I had a pork pie the size of my head, and one-third of it ended up in my bag), we wandered slowly eastwards for a couple of hours, across Tower Bridge and down to Whitechapel Road, dodging the traffic and noting the scaffolding, finally arriving in Victoria Park at about 6.15 and finding a massive festival stage set up, and people as far as the eye could see!
Nothing much happened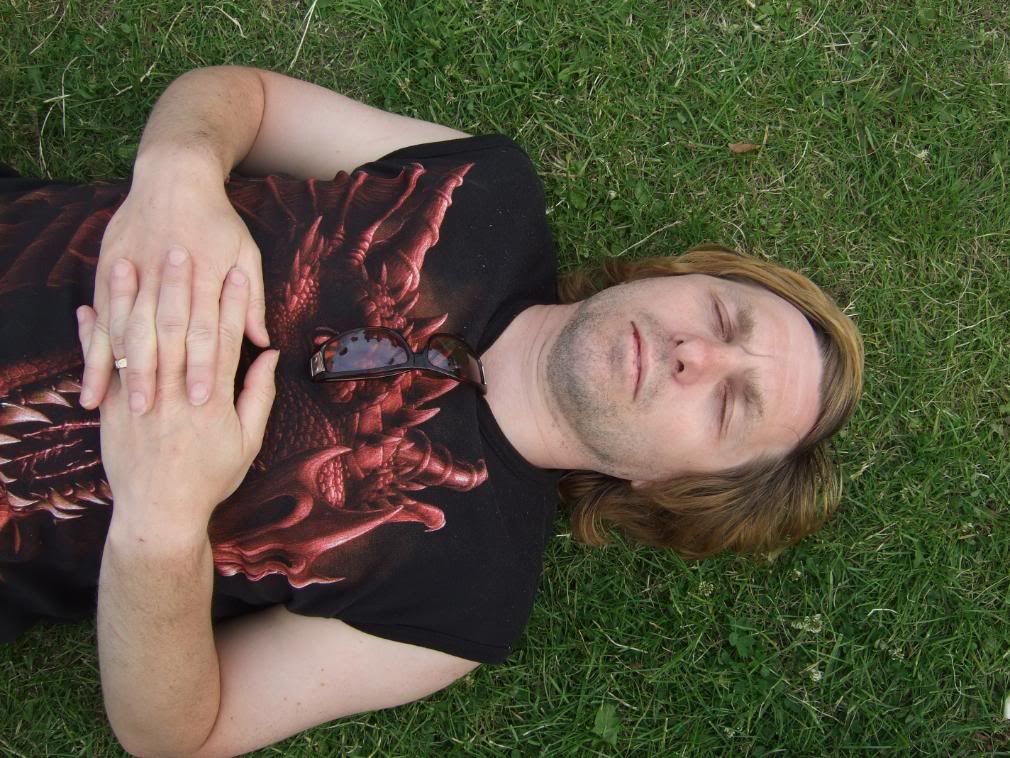 until about 6:45 when Natasha 'Bat for Lashes' Khan and her band materialized.

I already knew she was great – the only reason I haven't got her first album is that there are so many others on my list – but she was also a really big hit with Himself, who said 'Oooh! This is great! This is really interesting and weird!' Her voice is lovely live, much less breathy than she sounds on recordings, and (being one myself) I'm always encouraged to find sopranos in pop music, as there are so few. For the uninitiated she sounds sort of like Kate Bush crossed with Bjork, with a lot of Celtic and Native American-sounding bits, especially sound in the drumming and the interesting ethnic instruments.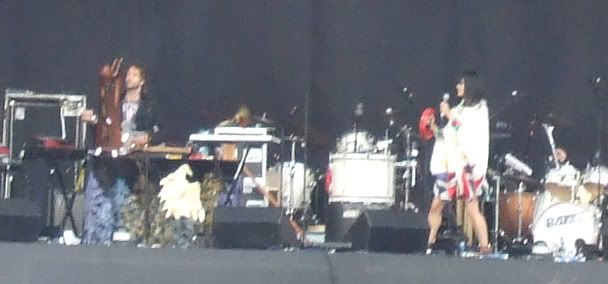 Sadly, during one of her songs the sound cut out! The roadies fiddled about for a bit but there was nothing for it – she had to go off. Fortunately, after ten minutes she came back on again, said something like 'It's not completely fixed, but we'll carry on anyway', and did three more songs. Himself now wants everything she's ever recorded. I'm on the case.
Then there was much hanging about and watching more and more people accumulating. I spotted someone wearing a T-shirt which said 'I listen to bands that don't exist yet!' Several false alarms were prompted by rolling cheers from the nutters down the front (we were nowhere near the front, which, since we're both short, wasn't a good move). The rest of the pork pie got eaten and very thankful we were for it, too. Finally, just after 8.30, some distant figures materialised on the stage to the accompaniment of lots of noise from the front. Some drums started up and, suddenly, that oh-so-familiar voice rang out across the field 'How come I end up where I started?' but sounding much, much better than he ever does on recordings. And we were off.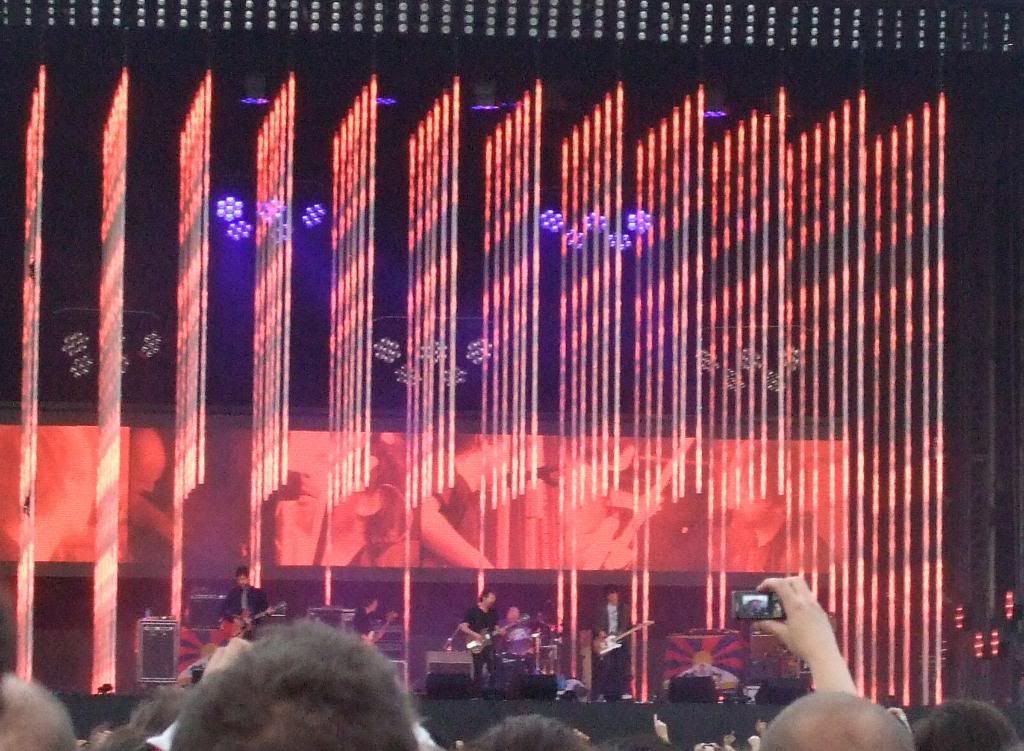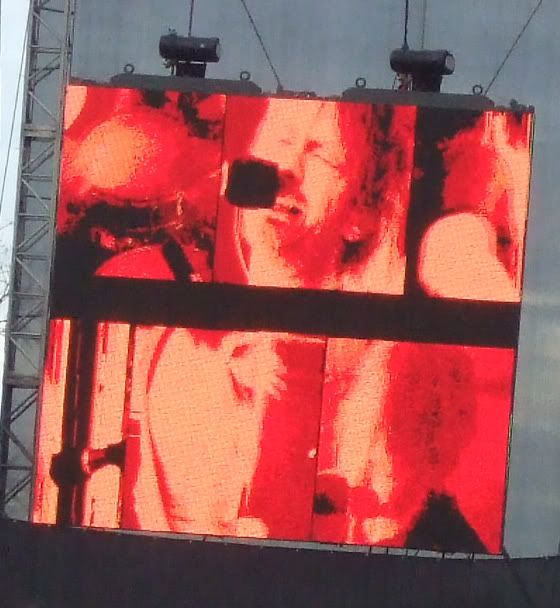 Obviously, it's Radiohead, you don't expect any kind of pandering to their 'greatest hits', so the offering of 'Pyramid Song' quite early in the set provoked some appreciative 'ooohs' from the audience.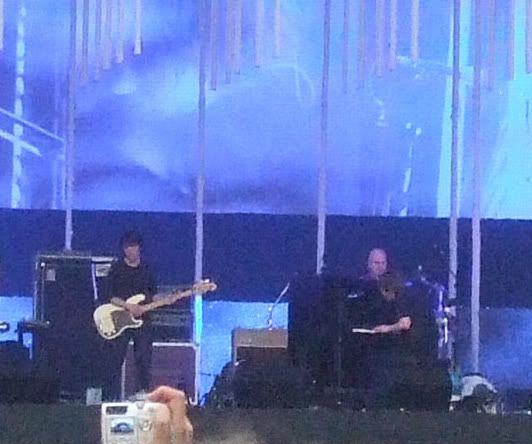 They played pretty much the whole of 'In Rainbows', including 'Bangers and Mash' off the second CD, which live is a huge, magnificently noisy beast with the synth solo that sounds like it's beaming in from the early-70s version of the Doctor Who theme almost propelling them into orbit.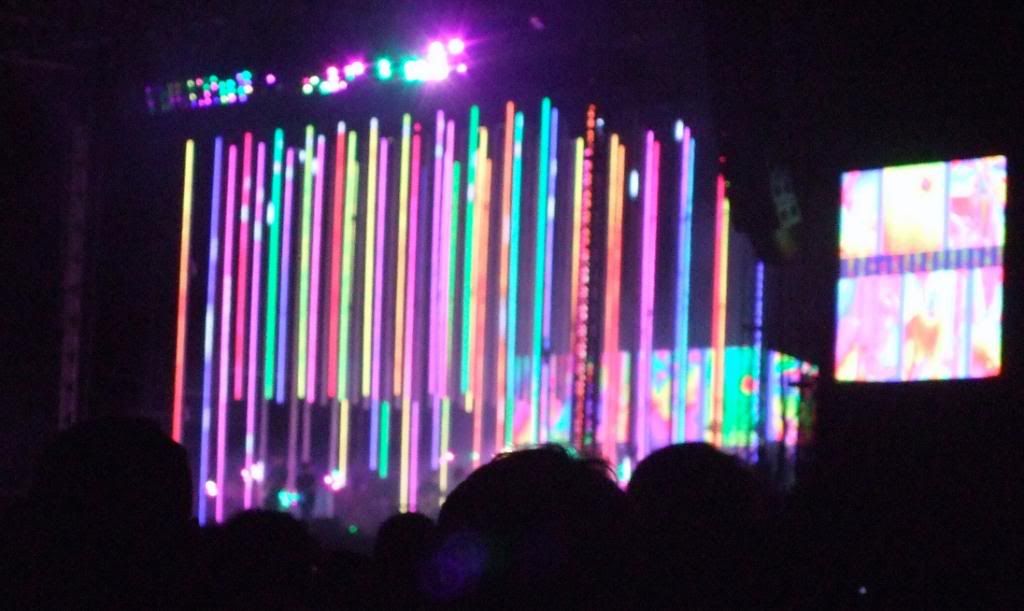 'Nude' was another highlight. And 'Jigsaw Falling Into Place'. As for 'There There', if ever a song came into its own live, this one is it, as they build up layer after layer of percussion and bass, add some guitar, then Thom's voice comes soaring over the top, and into the second verse the song continues to build up momentum until it peaks with a great noisy jam session and then dies down again into the pounding percussion.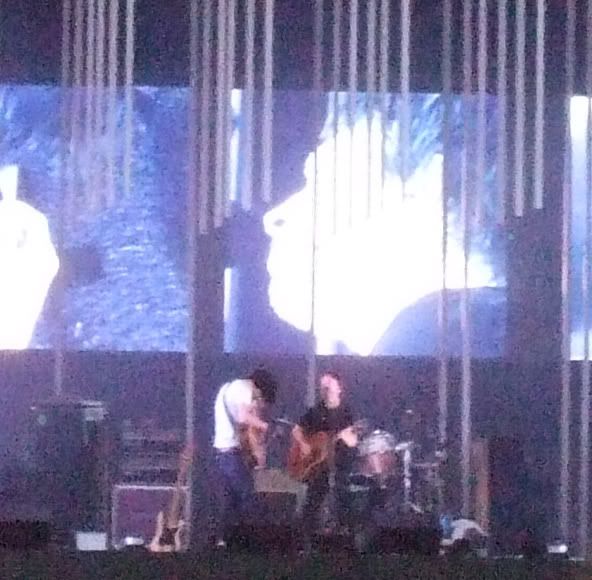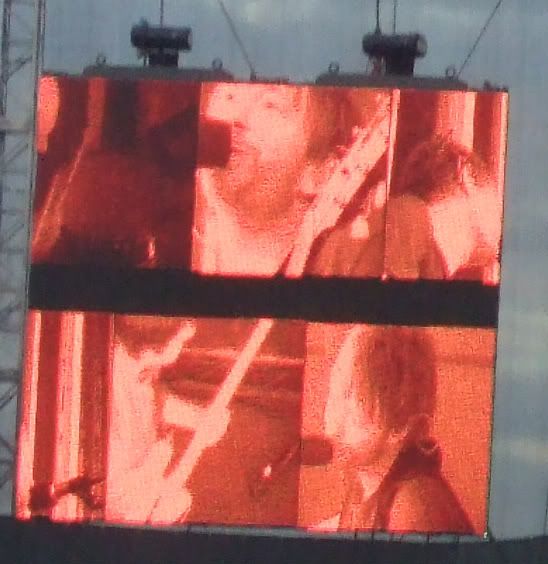 The sound was stupendously good - the clearest I've ever heard at an outdoor gig (and many indoor ones). Everything was wonderfully distinct – no big fuzzy mash-up of guitar noises like you often get. The music seems more immediate and coherent live and Thom sounds
amazing
(though I should be used by now to really good singers sounding better live). They played for a good two hours, including two encores (lots of excited noise from the audience as the massive opening riff of 'Airbag' swung into earshot) while for the second encore Thom skulked on to the stage on his own and performed a breathtaking solo piano 'Cymbal Rush' off his 'Eraser' album...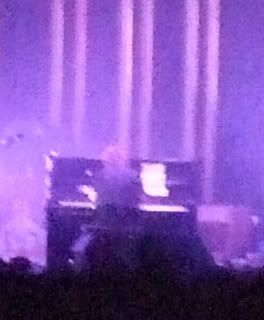 before the rest of the band shambled back on to finish with a big, noisy, bouncy rendition of 'Idioteque'. The two-hour schlepp home went quite quickly after all that. They really are one of the best bands in the world.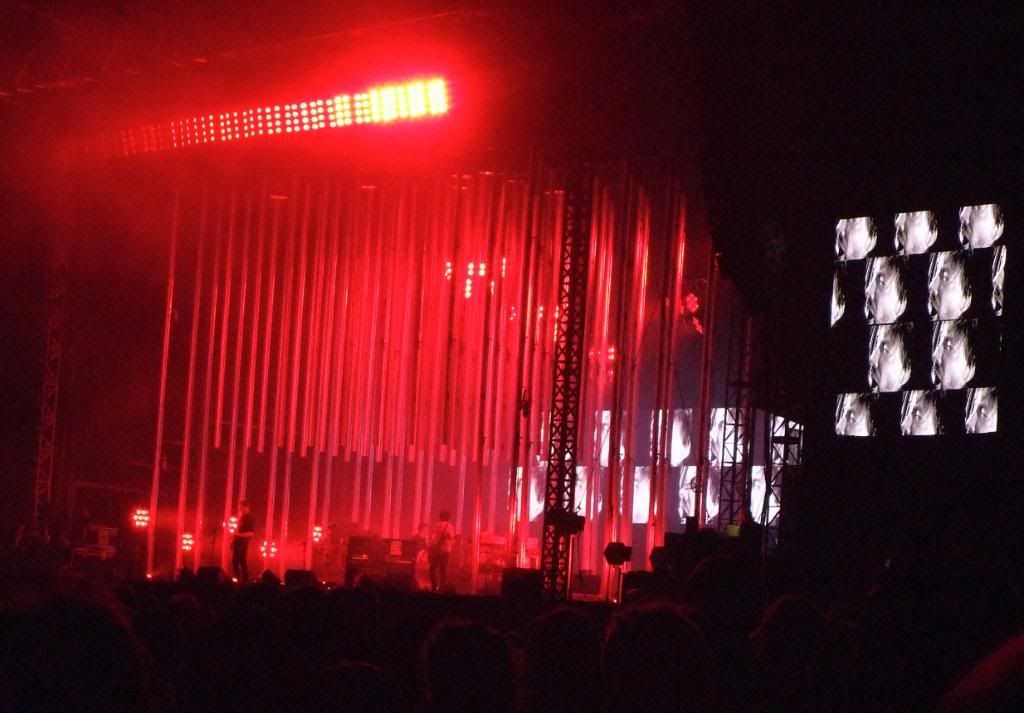 PS. The setlist, for those who are interested (
), was:
'15 Step'
'Bodysnatchers'
'All I Need'
'The National Anthem'
'Pyramid Song'
'Nude'
'Weird Fishes / Arpeggi'
'The Gloaming'
'Dollars & Cents'
'Faust Arp'
'There There'
'Just'
'Climbing Up The Walls'
'Reckoner'
'Everything In Its Right Place' *
'How To Disappear Completely'
'Jigsaw Falling Into Place'
- - -
'Videotape'
'Airbag'
'Bangers & Mash'
'Planet Telex'
'The Tourist'
- - -
'Cymbal Rush'
'You And Whose Army'
'Idioteque'