Since I offered my spare ticket on here, I thought it only fair to post a review of the free iTunes Guillemots gig at Koko last night. Sadly I didn't find anyone to go with me; but they were giving out the spare passes on a 'first come, first served' basis after 8.15, so it didn't go to waste.
Koko looks smaller than it used to when I worked opposite it many years ago. It's very glamorous and very red inside, and the familiar strains of Elbow's 'Grounds for Divorce', as I wandered downstairs from the balcony, seemed like a good omen (as I'd been listening to the album while working during the afternoon). Koko's website says it has a mirrorball 'the
size of the Death Star' which is hardly an exaggeration. Having wiggled my way down the side of the crowd to a position just behind the front row at the left side of the stage, I amused myself with watching it (and videoing it) for a while. When 'White Winter Hymnal' by Fleet Foxes came on, I was already as happy as a person at a free gig.
First up was the Swedish singer Lykke Li. Her stuff is quite dancey, quite angular, quite minimalist, quite electronic and really quite good, as is her voice - a strong, clear, slightly husky pop soprano with a very slight suggestion of Bjork.
[
She had a golden kazoo round her neck which she inserted into some of the songs, and a megaphone.
She also dances in a very silly way, which impressed me as I sometimes despair at how few women are prepared to look silly on stage.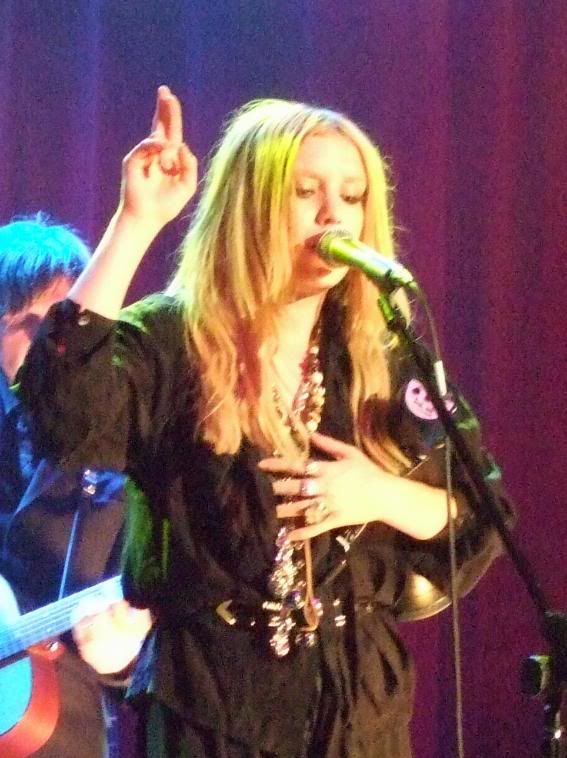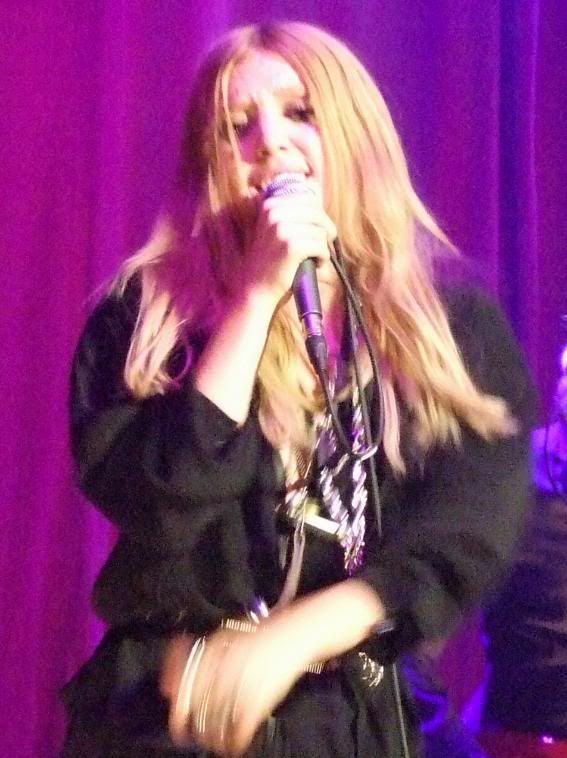 I suppose some people might describe her as 'mad as a bag of spoons' but not an audience inured to the antics of Fyfe 'Hatstand' Dangerfield and his merry cohorts. I was impressed by the fact that she'd apparently managed to get Chris Martin on drums and Jarvis Cocker on keyboards, too.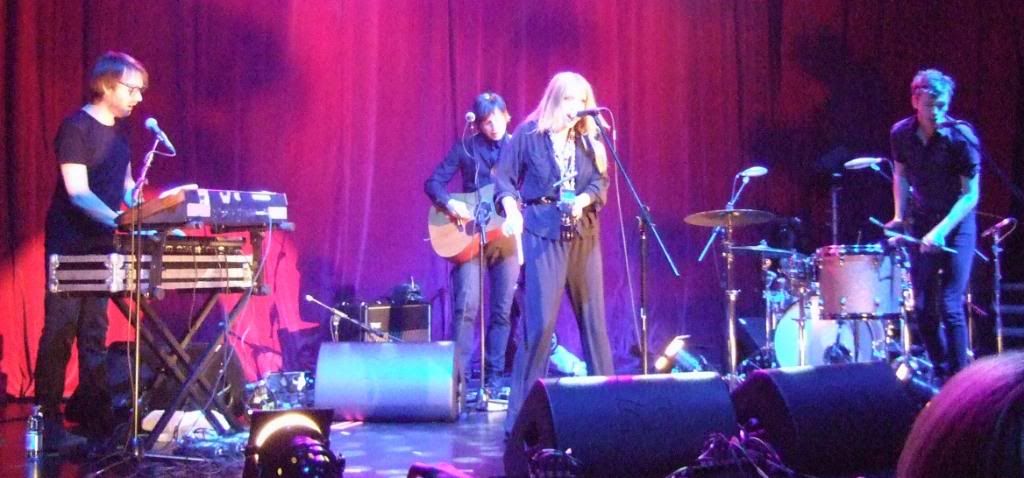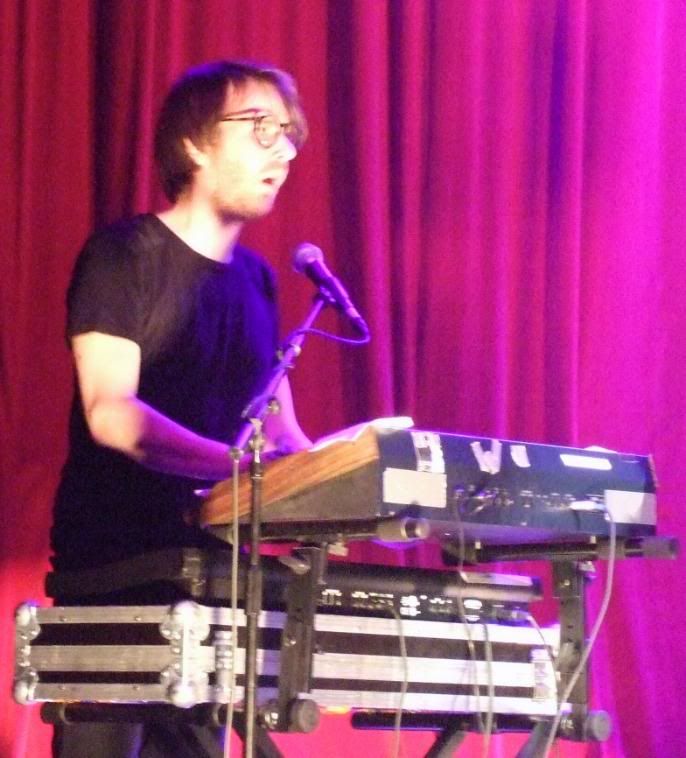 I was less impressed that they closed the curtains to set up the stage for Guillemots, as I love watching roadies messing about with equipment. Although some people were fooling with lights at the front, which led to some very interesting shadows, apparently of headless men, behind the curtains.
At one point a large screen dropped in front of the curtain to project a bunch of iTunes promos, including enjoyable snippets from last year's gigs, of which the highlight was Editors performing 'An End Has A Start'. Finally, after a hilariously cheesy announcement, the curtains opened and they were on, Fyfe and Greig both sporting ridiculous sunglasses, launching into a typically noisy rendition of 'Get Over It'.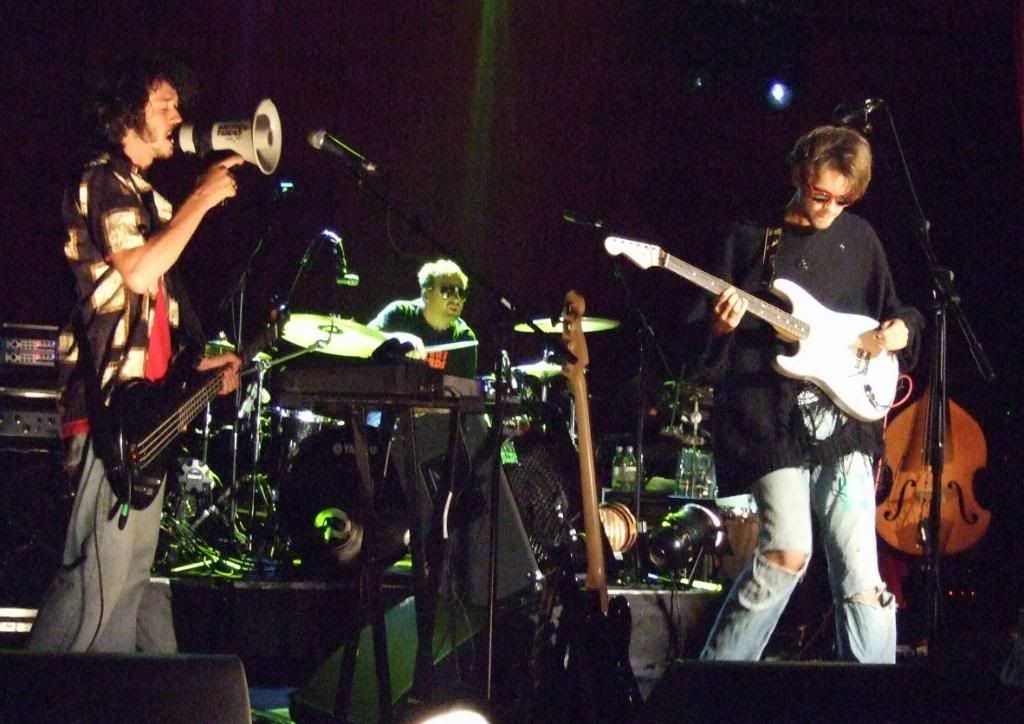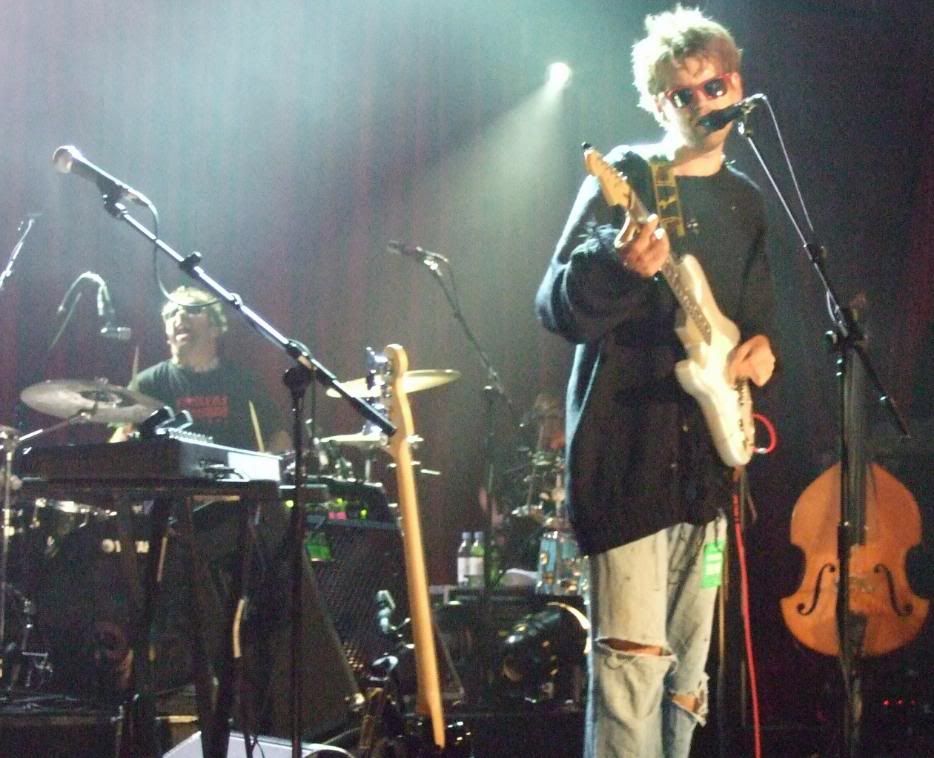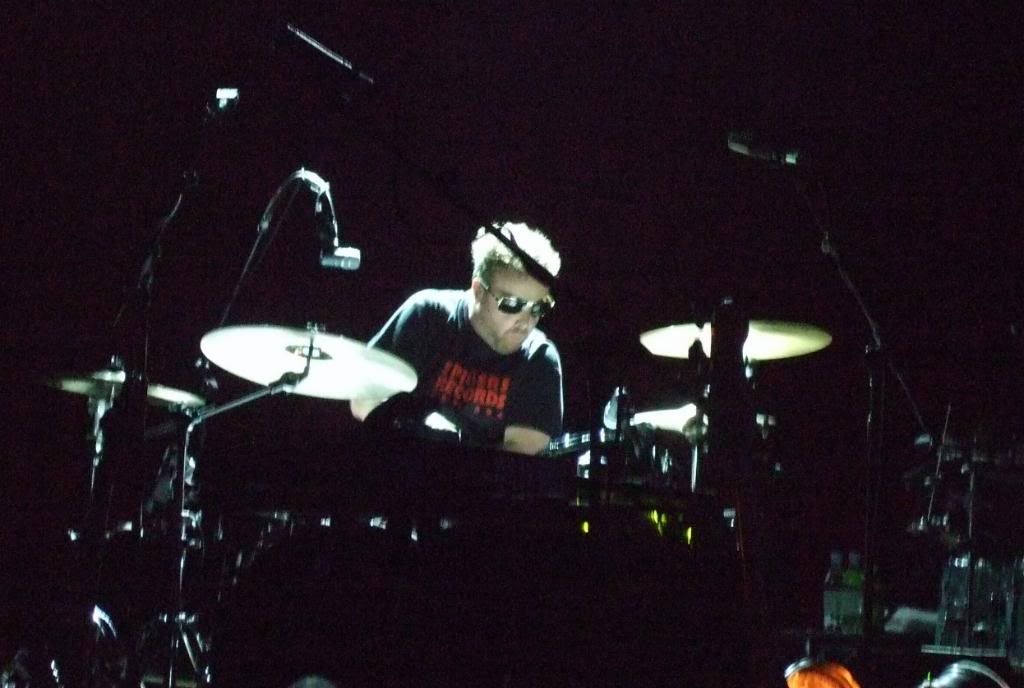 I'm always amused by how LOUD Guillemots are live. For all their classical background and orchestral tendencies, they're still a rowdy rock band, albeit with a larger than average selection of instruments. I love the way they all play everything. Arista started on percussion,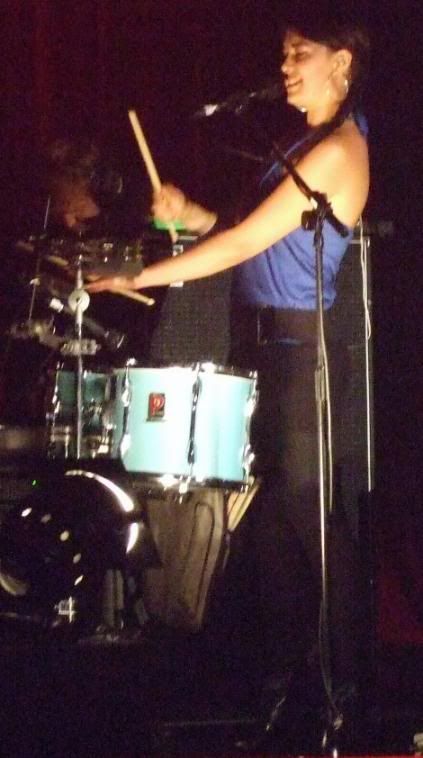 then moved to her double bass,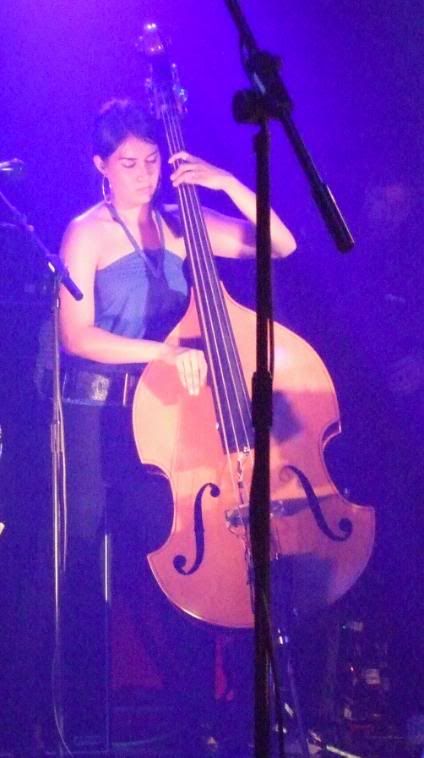 then picked up a recorder

followed by a bass guitar, came out to sing the lead vocals on 'One Last Kiss' and flitted behind the keyboards for 'Kriss Kross'.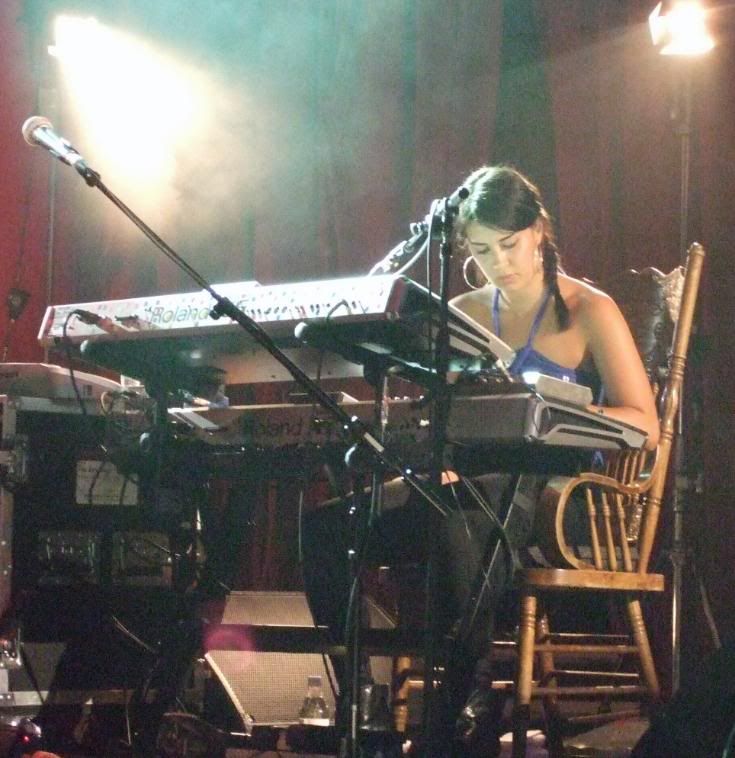 Magrao may spend a lot of the time bent over his guitar making seagull noises, which I think of as Guillemots''signature sound', with a bottleneck,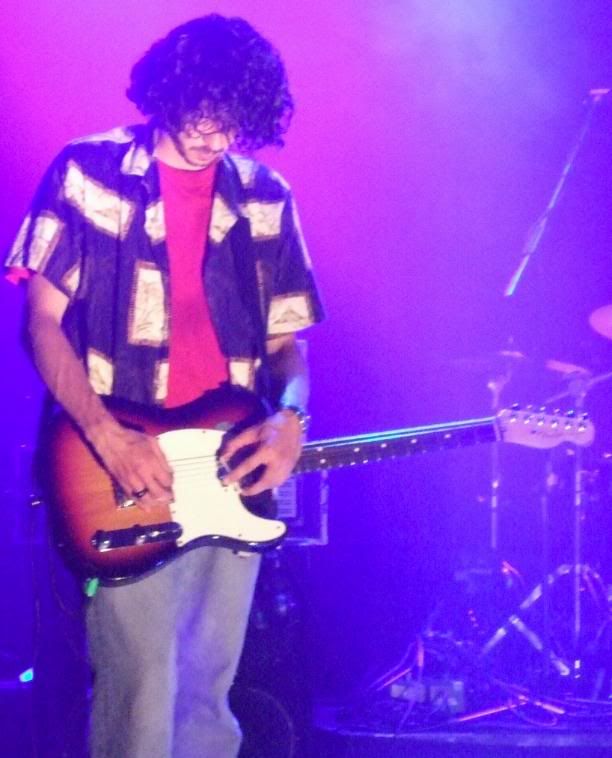 but he also did duty behind a keyboard, hit stuff and played bass.
Greig blows into things, waves things, sings and plays the drums, apparently all at the same time.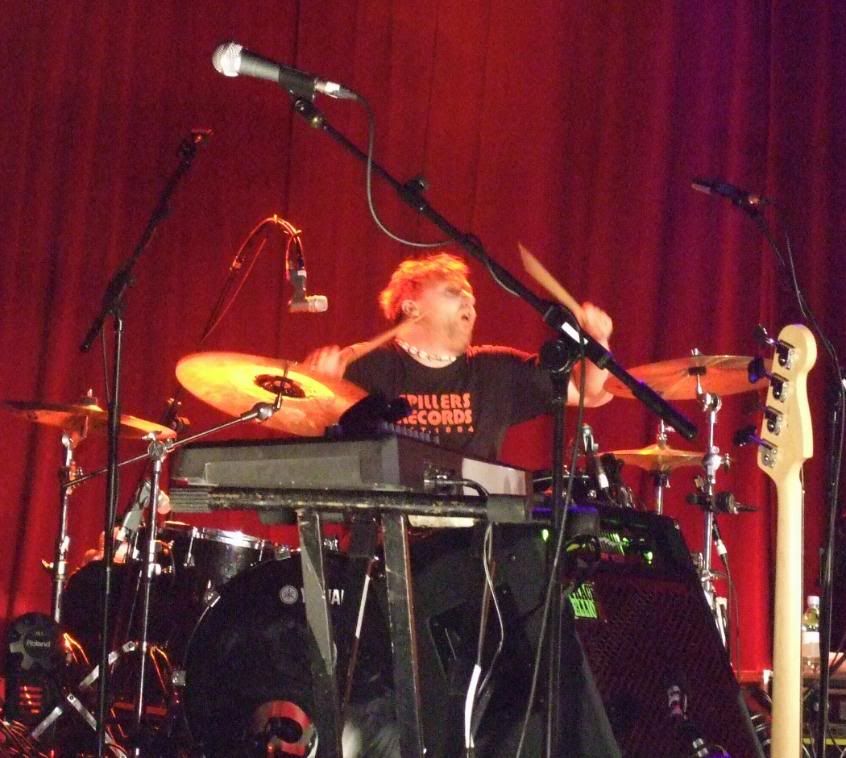 And Fyfe is all over the place – thrumming his guitar in the style of a man with St Vitus's Dance one minute,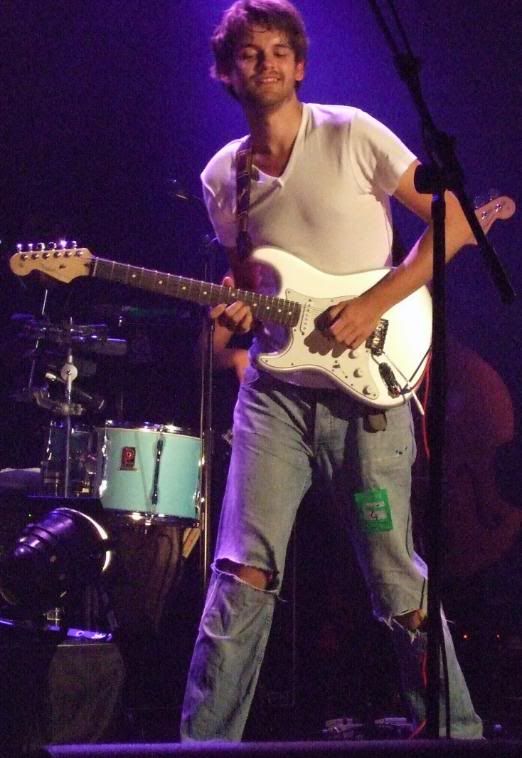 bouncing up and down behind the keyboard like Thom Yorke on speed the next,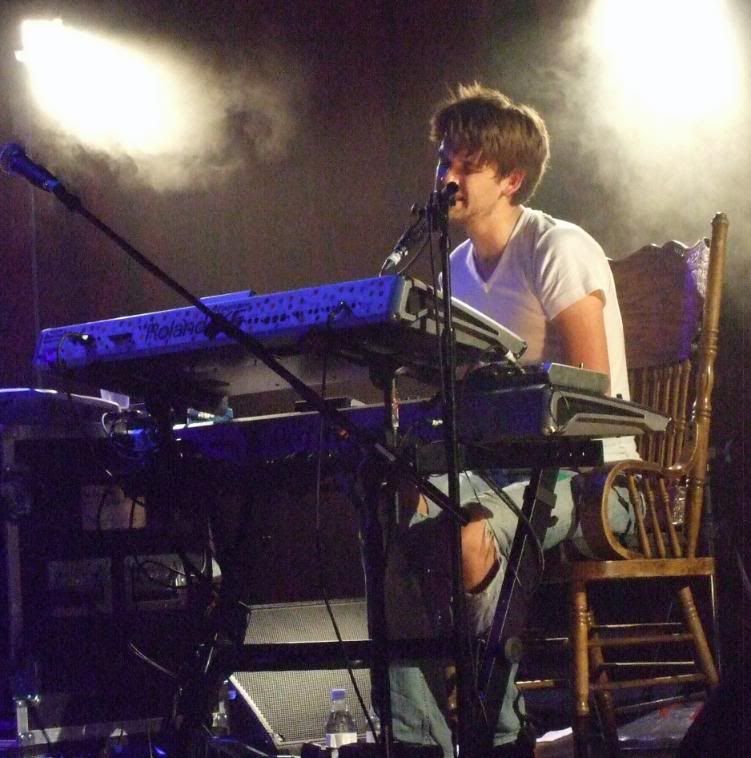 all gangly arms and legs and fluffy hair, singing and screeching and yodelling like a loony, yet with never a note out of tune. Now that's impressive.
At one point the rest of the band went off and a guitar tech came on, handed Fyfe his white guitar and carefully set a Gibson Hummingbird down next to him. I thought 'oh good, he's going to do that solo version of "We're Here"'. Instead he started wittering on about listening to George Michael in the bath when he was a kid, and having a 'Ladies and gentlemen, Mr Elton John!' moment, before flinging out an arm and announcing gleefully 'Ladies and gentlemen – Miss Martha Wainwright!'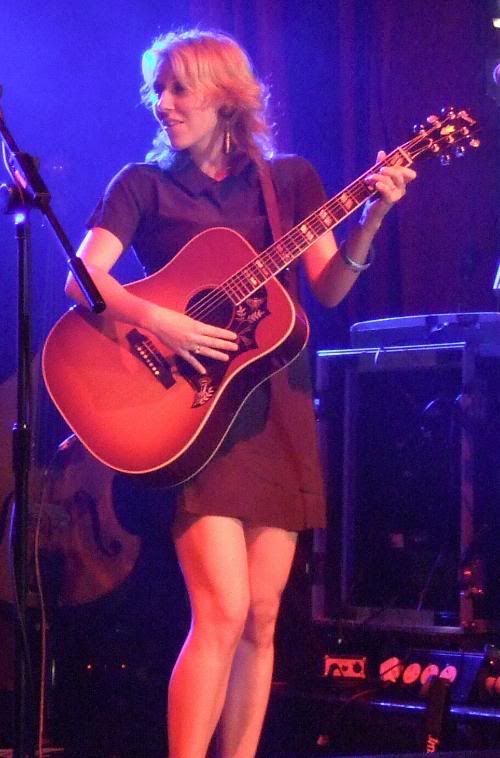 They proceeded to duet on one of Martha's songs – You Cheated Me (I think).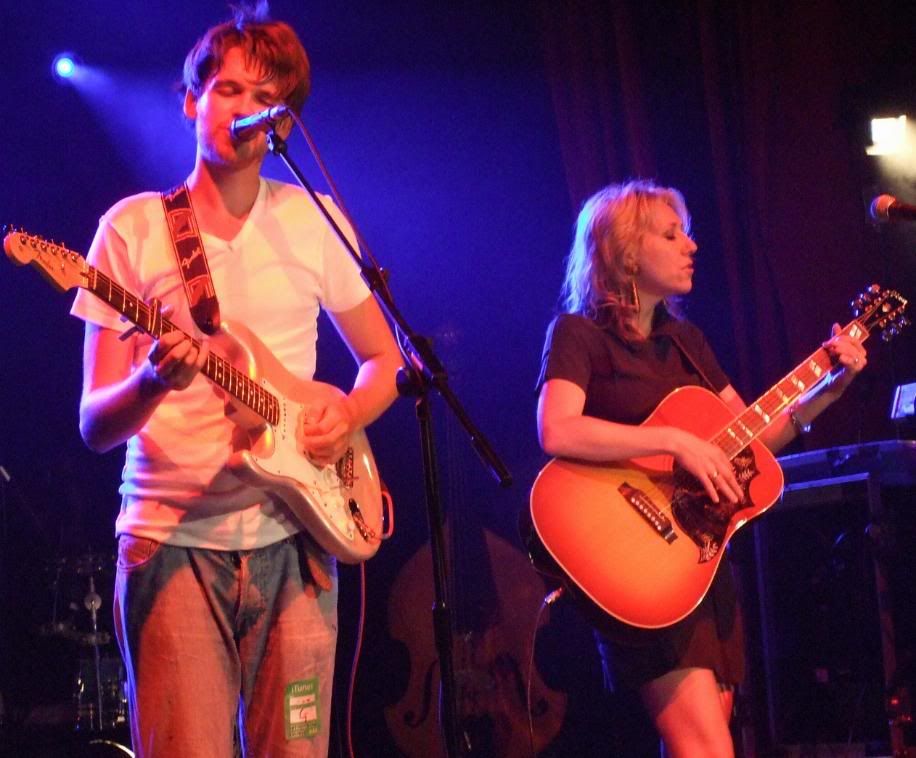 Now I have to confess I'm a bit ambivalent about Martha. I'm afraid her voice doesn't do a lot for me. I feel bad about this, especially considering how huge a fan I am of her brother, and I have tried, but it isn't happening. All the same, it was pretty damn magic.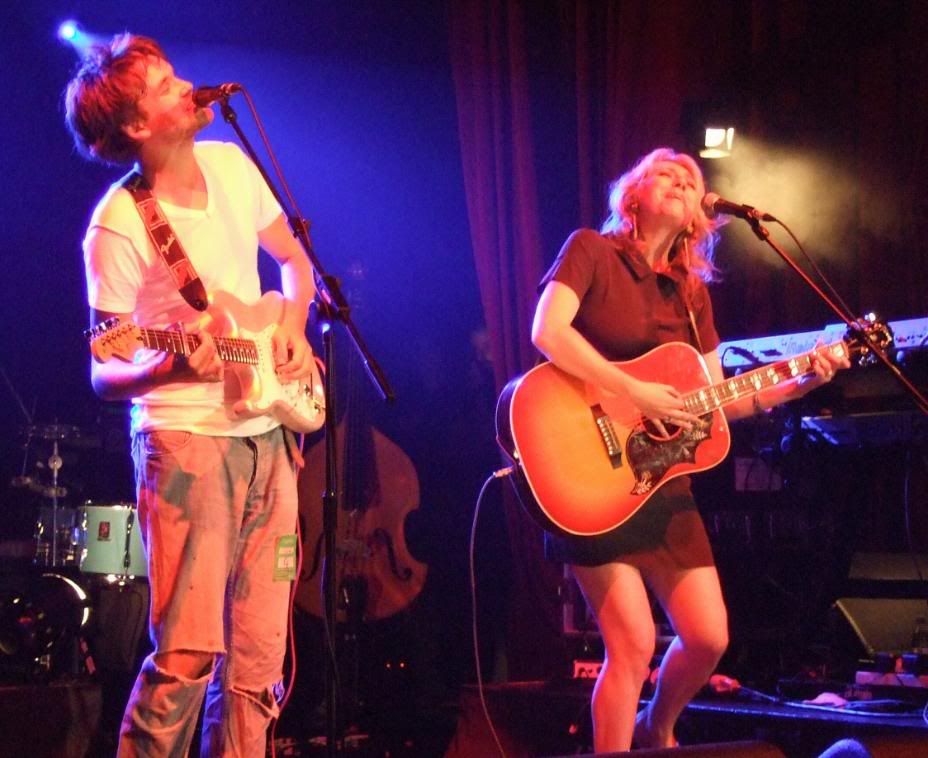 And then the rest of the band came back on and they performed 'Redwings' with Martha singing backing vocals, and it was even more magic.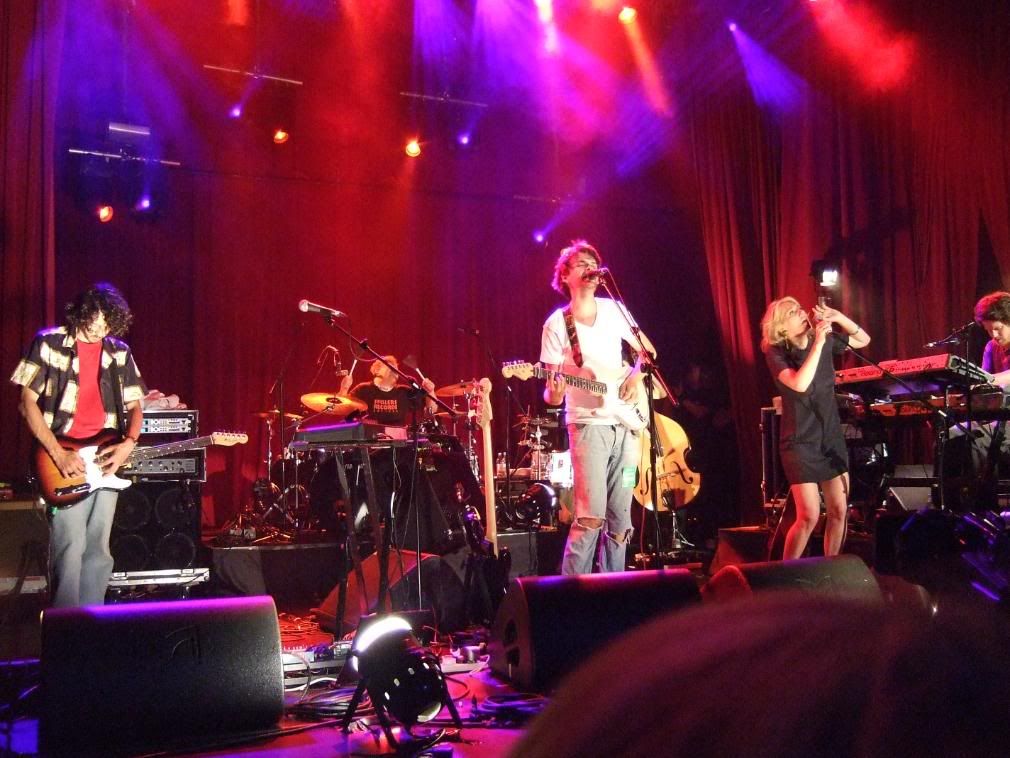 Then it was only left to Greig to career around the stage ringing his bell before they hit 'Trains to Brazil' with a big stick, and after that we knew it was going to be Sao Paulo, although not before Fyfe had given a bizarre plug to his friend's book about football in the Middle East. They threw everything they had at Sao Paolo, and then some more. As the song reached its huge, noisy climax where the roadies come on and bash any spare percussion they can find,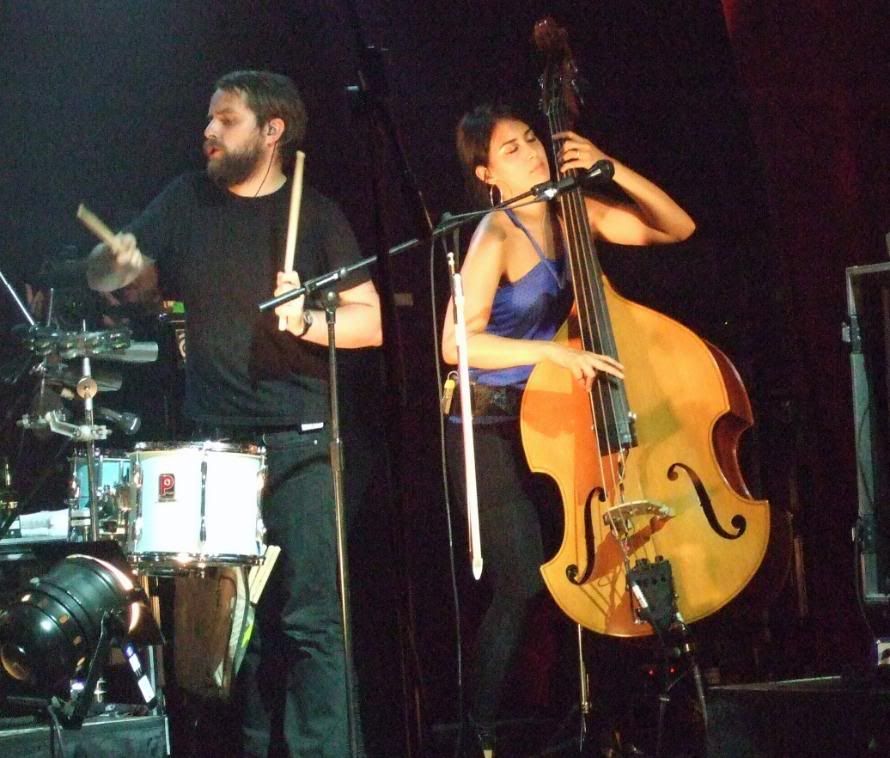 Fyfe ripped his T-shirt off (which he shouldn't - he has the physique of a washing line) and stood there belabouring his dustbin lid like some kind of wild man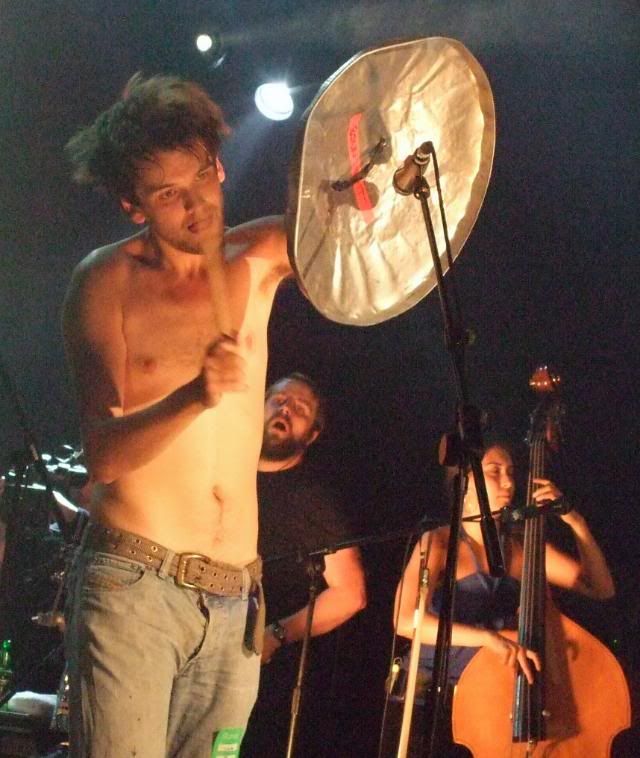 before scrambling back behind the keyboard to hammer the peal-of-church-bells outro.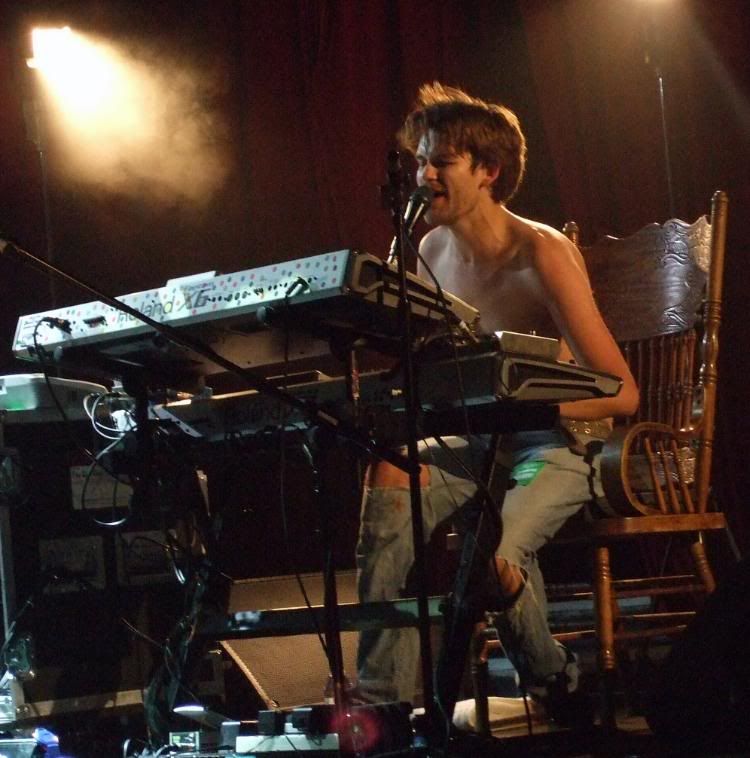 And then it was over. But a huge, excited buzz continued around the auditorium for some time. I think everyone was stunned. I know I was.
Setlist:
Get Over It
Go Away
Made up Lovesong
Clarion
If the world ends
Last Kiss
Don't Look Down
Kriss Kross
You Cheated Me (Fyfe and Martha Wainwright)
Redwings (Martha on backing vocals)
Trains to Brazil
Sao Paulo