Paolo Nutini - Sheffield O2 Academy 7 October 2009
Paolo has been one on my wish list of gigs since I first heard 'These Streets' so I was really looking forward to this one and he didn't disappoint.
It's the first time I've been to the O2, it's a nice enough venue and not too far from the entrance to the front of the stage so no intensive exercise required to get a good view if you're there early! So hung over the barrier we were treated to two support acts, the first one who's name escapes me was a young lass with an acoustic guitar. She had some nice tunes and was a good compliment for what was to come. Second was a lady called Rachel Furner, very endearing and looked and awful lot like Rose Webster form Coronation Street. Some may say a questionable taste in fashion, but has a lovely voice and yep, we enjoyed her.
http://www.myspace.com/rachelfurner
And so to Paolo, as the roadies turned the stage around we were going to be in for something special as out came the standard lamp, the candelabra, carpet, chair and king louie ornaments! Also a coffee table laden with water coffee, beer and red wine...*hic*. When he emerged and began to sing it was like being voyeuristic on a lad singing in his own little world. He sings with his eyes closed and hunched over. Like we weren't even there and were watching a very personal time. He's gonna have fairly major back problems though cos like I said up there he spent most of the evening hunched over. Maybe it's his comfort position, but it can't do his spine any good. His set consisted mostly of tracks from his most recent album 'Sunny Side Up' although he kept us all happy by throwing in the old classics 'Last Request' and 'New Shoes'. See set list below. For future reference though it's worth standing at the left hand side of the stage as the lad tends to prefer singing facing that direction. So the majority of my photo's are side on, although I've managed to pick out the odd one I got when he was facing in my direction! The final icing on a great night was managing to get hold of a set list. Being at the front and having long arms to reach a roadie certainly helped!
Recommended, thumbs up!
The unknown singer. I really need to remember these important details, don't I?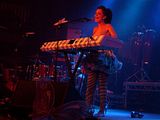 Now is that, or is that not, Rosie Webster?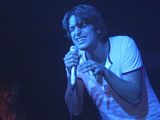 He did face our direction sometimes.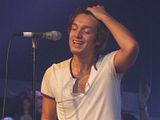 Yep, hung over the barrier, we could see the sweat.
And a souvenir money can't buy.